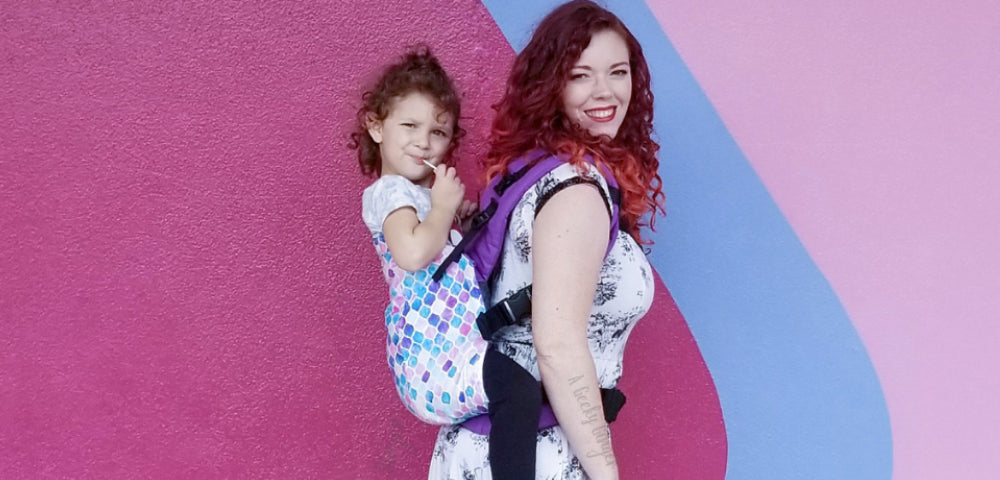 How Babywearing Made A Safe Space For Special Needs
As most of us are aware, or have at least heard, babywearing has so many incredible benefits. While staying (mostly) hands-free, we can keep our little ones close to us! In doing this, we are bonding, having "skin to skin" contact, responding to their cries, and can quickly tend to them when they're hungry. We also help regulate an infant's heartbeats and even their digestive system! This beautiful gift is absolutely remarkable! Any child can benefit from being worn in a carrier... But what about children with extra needs? Special needs?
For a special needs child, babywearing (or big kid wearing) becomes so much more. It can offer an entirely new kind of comfort. Comfort that can meet their needs and even ours. Because when you're a special needs parent, there are extra things, extra stresses, you have to worry about with your children, that most parents don't have to think about! Babywearing can easily create a safe space for your child, that is incomparable to any other baby or toddler gear out there.
My daughter is on the Autism Spectrum, has Sensory Processing Disorder, and is immunocompromised. We learned from an early age, that having her up in a carrier was just going to be a necessary aspect of life (even when I didn't totally feel like wearing her). She has certain needs that had to be met, and this was the best way to do it. Babywearing has helped us for 4.5 years, to keep a safe space that she can always come back to, if she needs. Our Preschool Kinderpack has especially aided in this over the past year of her life, as it still holds her comfortably!
With all of her special needs, being in a carrier is much more than just being worn or allowing her to rest her legs. It's the place she can come back to when she needs to feel safe when we're in public! It's also the place that I know she is safe, when in public. Some of the benefits we experience are...
Sensory input/compression for a calming effect

Ability to separate herself with use of the hood on the Kinderpack

Can quickly weave in and out of crowds and away from loud noises

Keep her away from sneezing/coughing people

She can't bolt/run off in a crowd

I can quickly notice her cues of getting overwhelmed

Keep her hands and face clean from germs

The hood protects from bright of flashing lights
These are just some of the benefits of babywearing in our special needs world, and these are specific to the types of needs that my daughter has. However, there are so many benefits to find in babywearing your little one with special needs, that I absolutely encourage you to research more into it!
Honestly, when I began babywearing over 16 years ago, I never even considered that I would one day need it, for my special needs child. I really just started wearing, so that I could be hands-free while I was babysitting my youngest sister! But here I am, 16 years later, and ever grateful for the knowledge and experience I have with this. I've been able to utilize babywearing with 5 children in my family, all with different types of special needs. Babywearing has helped accommodate all of them, in one way or another, while also keeping my anxiety down. Which, to be honest, is such a crucial part of parenting.... figuring out how to do it with as little anxiety as possible.
Our Kinderpacks have been especially essential in the past couple of years, simply because my daughter is much larger than children her age and has been for a while. The toddler and preschool sizes have been a lifesaver! I can't imagine our special needs life without the use of wearing.
Lee is the Blogger and Social Influencer at A Geeky Ginger
Follow her on Facebook & Instagram to see more on her Special Needs Mom Life!